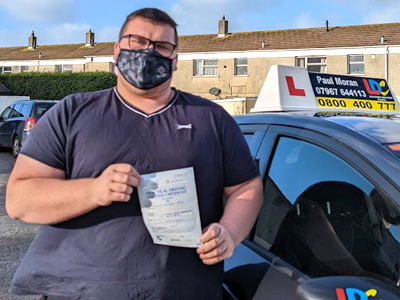 Marcuss Rigg
Paul is an excellent instructor with an aim to help his students become safe, competent drivers. Quite quickly this is what I became, because of Paul's methodical approach I developed a great foundation of knowledge and skill to build on, allowing me to progress quicker than expected but still become a safe driver. Due to this and Paul's friendliness, patience and overall expansive knowledge of proper driving techniques, I would happily recommend him to anyone I know who wants to learn to drive and will do, knowing they will have the same great experience that I have had. Thank you Paul.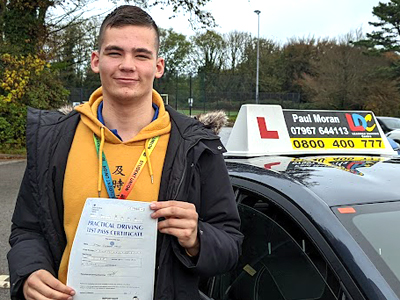 Ethan Mann
A fantastic driving instructor he supports his students all the way through the experience. He is great for learning the basics using the book and going through the list and preparing you for various road conditions and help[s you find the best and most effective technique to do different manoeuvres such as a step by step guide provided by both himself and the LDC workbook and also just being a generally nice guy to be with and help teach you and prepare you to start driving and for that I cannot thank you enough. I highly recommend Paul if you want a detailed safe and comprehensive experience to start your driving life.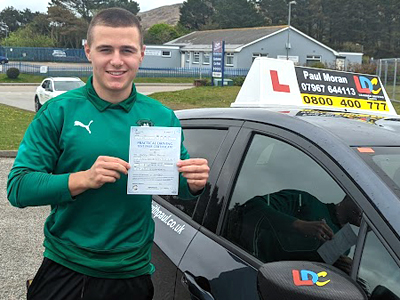 Danny Pearce
First time pass
Paul was a great instructor as he demanded everything to be at a high standard. He made me a better driver every lesson I had with him which allowed me to make great improvements to my driving skills. Paul was also a great guy and I got on with him very well. I couldn't recommend him any higher for a new learning driver as he would develop you as a driver better than you could imagine. He provided me with the LDC workbook filled with all the information you need to pass your test which helped massively when I would go out for drives with my parents as we could nail in the procedures into my head for manoeuvres etc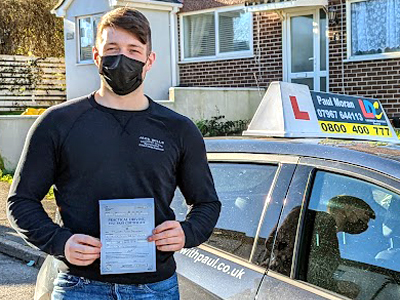 Stuart Stevenson
First time pass
Paul is a brilliant driving instructor and an all round great guy. I was not very confident getting behind the wheel again after a long spell out. I undertook an intensive course with LDC and Paul brought me back up to speed in a short time.With guidance from Paul and the LDC workbook provided I managed to pass first time. I can't thank him enough.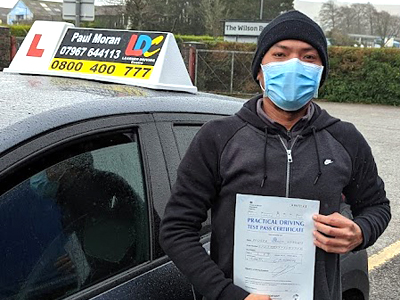 Andree Navarrete
First time pass
Paul has been a very good instructor. He's very calm in teaching which wouldn't cause panic during sessions. The LDC workbook provided was helpful too.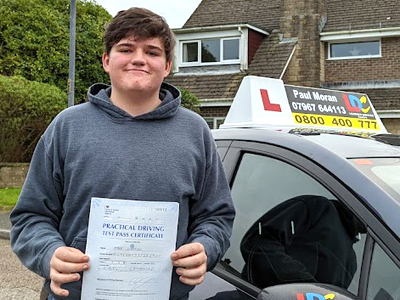 Kale Duffin
First time pass
I think Paul is an excellent instructor and thoroughly prepared me with a variety of resources and methods to allow me to be able to drive safely and pass first time.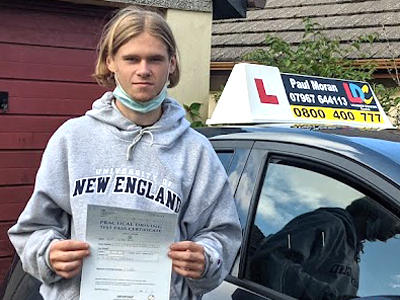 Eliott Hall
First time pass
Overall, learning with Paul was super simple and very informative. I never had any trouble understanding different manoeuvres or techniques used when driving, the description he would give was direct and in-depth yet still easy to understand. He would be honest with you no matter your skill level, if there was anything you could improve on he would tell you and prompt you to learn in that lesson of the next. Whilst still incorporating new/other things into that same lesson. A very friendly person who's there to make sure you pass on test day. When I wasn't in lesson the LDC booklet was very useful for many things from stopping distances, show me tell me questions, manoeuvres and more. I was also told there were videos on You Tube about the test route that were short but informative.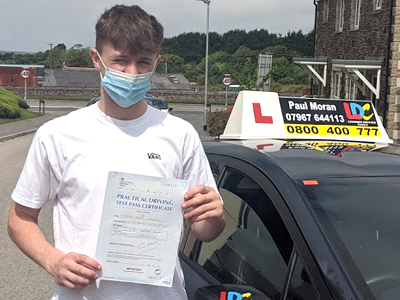 Tyler Wannell
First time pass
Paul is a very good driving instructor and i would recommend him to anyone as over all our Lessons we covered everything that i needed during the test which allowed me to pass First try. I was also given a book which i used to help me with my driving as it contained Everything that i needed.
Matthew Wells
First time pass
Paul is a professional, knowledgeable and friendly instructor. It was a pleasure to be taught by him in my preparation for the driving test. His help and advice was invaluable and gave me a strong advantage going into the test, making me feel capable and confident in my abilities. I would recommend Paul to anyone learning to drive in the Camborne area.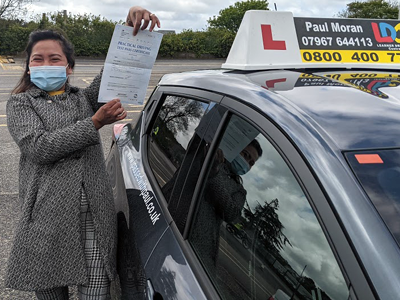 Liza Slatford
First time pass
I just wanted to say a very big thank you to my instructor Paul Moran for his dedication and help towards my driving lessons. He helped me a lot in passing my driving test first time. Today is one of the most unforgettable days. Paul's calm manner helped me greatly and his clear instructions and dedications helped me gain more confidence throughout my driving lessons and I am now able to drive with confidence. He has strict ways of teaching and that's where I learned a lot of driving with confidence. He is one of the best instructors and would highly recommend. Once again, I would like to say thank you to LDC driving schools and to my instructor Mr Paul Moran. Salutations. Kind regards, Liza Slatford (happy student learner driver).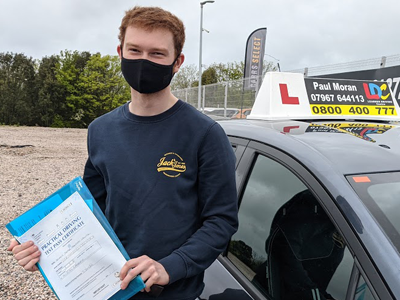 Edward Warne
First time pass
My instructor Paul explained all the different manoeuvres and points the examiner is looking for on the test. From there we set out a plan to give me the skills of a good safe driver and pass the test first try. Throughout my lessons Paul was clear and concise with instructions but always let you try it for yourself. As we came closer to my test Paul continued with his positivity and which made me feel prepared and calm when it came to my test. The LDC workbook I was given had many useful diagrams and was good to read when out of lessons.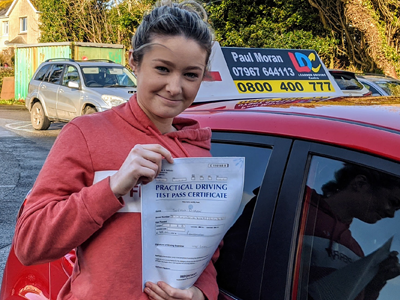 Sophia Dixon
Great Pass
My instructor, Paul Moran, was very professional in teaching me to drive. He gave me learning materials such as a workbook and a link to more resources for my theory test. I was comfortable when learning to drive and picked it up quickly. I've recommended him to many friends! Thanks!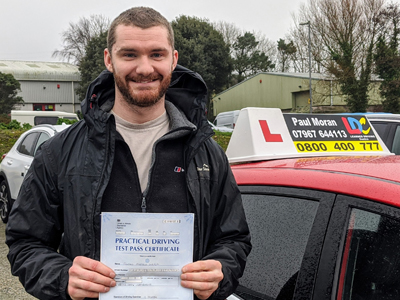 James Welch
Passed first time
I found my lessons with Paul to be very informative and Paul was very accommodating as to my needs and as to what I wanted to learn and at my own pace. Paul talked me through each manoeuvre telling me what I needed to do and it was all done in calm and relaxed environment. I found the LDC website and all the information within to be very informative and helpful, breaking everything down into sections so you can track your progress and know when you've completed a section. Overall my experience with Paul and LDC was fantastic. Thanks again Paul for helping me pass first time.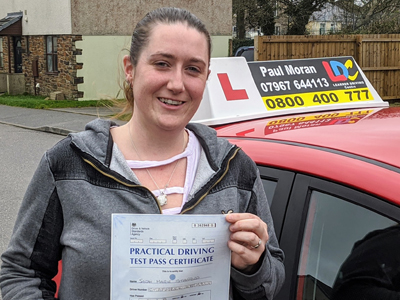 Sarah Stafford
Another great pass!
I am naturally a very anxious and nervous person but Paul really put me at ease and helped me get over that quickly. He knew what I was capable of and managed to get me to achieve it confidently and quickly. As to not put my mindset backwards and panic. I would highly recommend Paul to anybody as he truly is fantastic!
Justin Beats
Paul was an excellent instructor for me and helped finish off a very productive week prior with another LDC instructor. He was always calm and positively reinforced any errors I was making, helping me build on these. He really excelled in the final stages before sitting my test, a calming force with assured positivity. I would highly recommend him and the LDC system in general.
Charlie Coyne
Passed first time
Paul was an amazing instructor, he helped me build my confidence in my weak areas and taught me everything I needed to pass first try. He was always pushing me to learn from my mistakes and as a result I genuinely felt I was making progress every lesson. Couldn't recommend him enough for anyone who wants to learn to drive!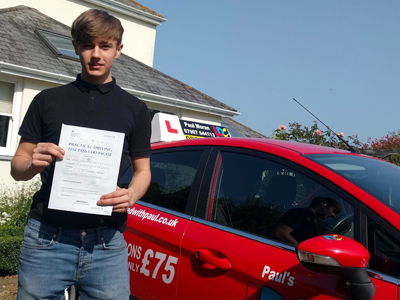 Ross Hunter
Another great pass!
I enjoyed my lessons with Paul and he really helped build my confidence. Paul is very calm and this is really important. We worked on the very areas I needed to improve on and I also made some use of the workbook. Paul was always on time for my lessons and was very flexible for lesson times and being and being available on my test date. I would recommend Paul to anyone getting lessons.
Liam Tomlin
Passed first time
Paul was able to develop my confidence from having no previous on-road car experience to passing my test in a very short space of time. I never felt under pressure or stretched too far out of my comfort zone. He was very patient and never minded going through the same exercises repeatedly or answering the same questions for me until the answer made sense in my mind! He was able to answer all of the questions I had throughout my learning simply and accurately and I have no doubt he is the reason I was able to pass my test so quickly.
On a practical note, Paul was always on time and was able to fit lessons around my full time employment and personal commitments.
My lessons with Paul were comfortable and I found him very easy to talk to, I would be happy to and will be recommending Paul to anyone looking to learn in the future. I found the learning resources provided with the LDC learning program very easy to use and, as a visual learner, the video resources were particularly useful. It was great to have the workbook to hand at home to reference during the time between lessons and remind myself of what had been covered and what was going to be covered in my upcoming lesson. The LDC method made it feel much easier to learn to drive due to the way it breaks down the different aspects and then groups them into easy to follow lesson plans and skillsets. This type of structured learning meant that I was able to learn at my own pace and I would happily recommend the LDC learning method to anyone looking to learn to drive.